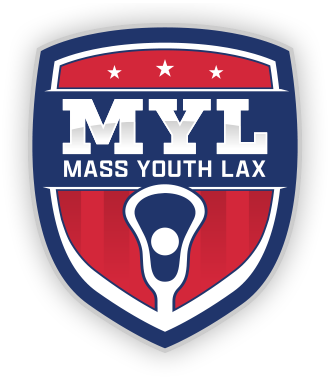 MBYLL is now Massachusetts Youth Lacrosse
Name change and new website launched
(September 6, 2022 - Natick, MA) -- Mass Bay Youth Lacrosse League (MBYLL) announced today the changing of its name to Massachusetts Youth Lacrosse (MYL), according to Board President, Jim Dalton. Along with the new name comes a new website and website platform. Launched today is www.MassYouthLax.org on the Demosphere youth sports platform.
"Today is the next step in a long-term strategic plan that the board began a year and a half ago," said Jim Dalton, MYL Board President. "The first step was last summer's launch of our girls' league and hiring of our girl's director. The name change is a small part of our effort to bring the boys' and girls' games under one operating umbrella and provide more structure, resources, and equity to both. It's a simplified name with the same mission, philosophy, and values."
A search began nearly two years ago for a new website platform after the board was informed its previous platform, League Athletics, would be discontinued in the near future. While still functioning, the previous website had more and more issues each season, mainly involving players' and parents' ability to register. A small group researched dozens of youth sports platforms over several months and brought three finalists to a group of town leaders to demo and speak with to ultimately pick the next platform for the league. Demosphere was the overwhelming top choice for the group of town leaders, and now the new website is officially launching!
"The name change and new website is part of our mission and dedication to providing the best service to our member towns and ultimately the thousands of players and parents in the Massachusetts Youth Lacrosse community," said Kevin Barney, MYL Director of Sales & Marketing. "The website allows us to have a single registration site for families, on their local town site. There, they will register to play for their town's Spring lacrosse season and, at the same time, see a line item for their MYL Membership. The name change eliminates the confusion between our league and others with similar names. It continues to show our dedication to growing the boys and girls game of lacrosse throughout the state."
Mass Youth Lax will continue its philosophy of teaching the game with a focus on learning, play, comradery, skill development, and learning to love the game, over wins and losses being the only way to define a youth sports experience. MYL will continue to look for like-minded town programs that want a league with these values while also seeing the investment of staff, time, and financial resources towards the town-based youth program.
"While our name change might seem minimal to some, the slight change is strategically important to further support our efforts to grow a unified Boys & Girls youth lacrosse organization benefiting all Massachusetts communities," said Tom Spangenberg, Chairman of the Board of Directors. "Our focus will continue to focus on building non-profit, volunteer led, and community based youth lacrosse programs in every town/city across the Commonwealth."
Town programs that are also using a Demosphere platform for the 2023 season will continue to benefit from a scheduling system that filters down to their local town site and team pages. A fully integrated mobile app is included for every team on a Demosphere site.
MassYouthLax.org will be the go-to site for league-wide schedules, coach, player, and family resources, insurance information, discount offers, special events, and video recaps of our major events. Please visit and bookmark it today at www.massyouthlax.org.
-----------------------------------------------
About Massachusetts Youth Lacrosse – MYL, a non-profit 501 (c)3 organization, was founded in 1992 by a group of town youth lacrosse programs that had the common goal to promote the growth of the game of lacrosse throughout Massachusetts by providing leadership, guidance, training, and structure to anyone interested in lacrosse. Over 110 town programs participate in MYL, with over 1,000 teams and 14,000 players participating in an 8-week Spring Season followed by the largest youth lacrosse Jamboree in the country over two weekends in Devens, MA. In Spring 2022, a new Girls League launched with 21 town programs and 2,000 girls players. Over 35 girls' programs will be participating in 2023. For more information, visit www.massyouthlax.org.